Dental Implants
About Dental Implants
Are you suffering from missing or badly decayed teeth? Tooth loss can occur when a tooth falls out on its own accord. Other times, your dentist might recommend a tooth extraction of badly decayed teeth, as the best way to preserve the health of the surrounding teeth and gums.

Whether you are missing one or multiple teeth, dental implants can restore the function and appearance of your smile.

What are dental implants?
Dental implants are a revolutionary restorative and cosmetic treatment that replace missing teeth with a color-matched prosthesis that looks and acts just like a natural tooth.

The main difference between dental implants and other restorations is that dental implants are a permanent solution to missing teeth and are secured to the jaw bone, giving them their renowned strength and durability.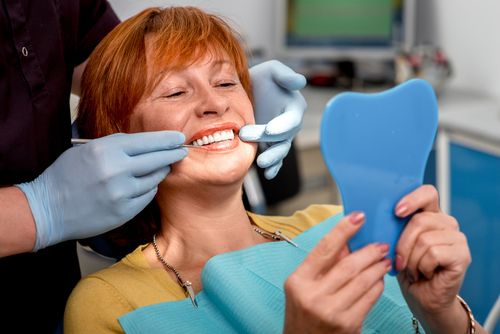 Benefits of dental implants
Dental implants are fast-becoming the restoration of choice for many patients across the globe, due to the unique benefits associated with them. The most renowned benefits of dental implants, include:
Permanence. Implants are permanently attached to your jaw bone, giving you the freedom to eat anything you desire without the fear of them coming loose or slipping.

Strength. As the only tooth loss prosthesis that is fused to the jawbone, the titanium posts that forms the base of the implant is extremely strong and durable.

Successful. The titanium that is used to make the implanted section of the prosthesis is biocompatible. This means that it is virtually never rejected by the body, contributing to the 98% success rate of dental implants.

Discreet. No slips and color-matched porcelain make dental implants extremely discreet and natural looking.

Easy to clean. With dental implants, you can brush and floss your teeth as normal, helping you to maintain a great oral care routine.

An investment in your dental health. With the right care and attention, dental implants could last a lifetime, making them a solid investment in the health of your teeth
Full arch replacement implants
If you have multiple teeth that are badly damaged or decayed on either the top or bottom arch, then you might consider a full arch replacement.

As its name suggests, this treatment involves replacing all of the teeth in the mouth's arch with prosthetics. These are attached to a bridge, which is then secured to your mouth using dental implants.

One of the key benefits of a full arch replacement is that there is no need to have one implant post per prosthetic tooth. Instead the entire arch is supported on just four or five titanium posts that are firmly fused to your jawbone. The exact number of implant posts will be decided at your consultation appointment.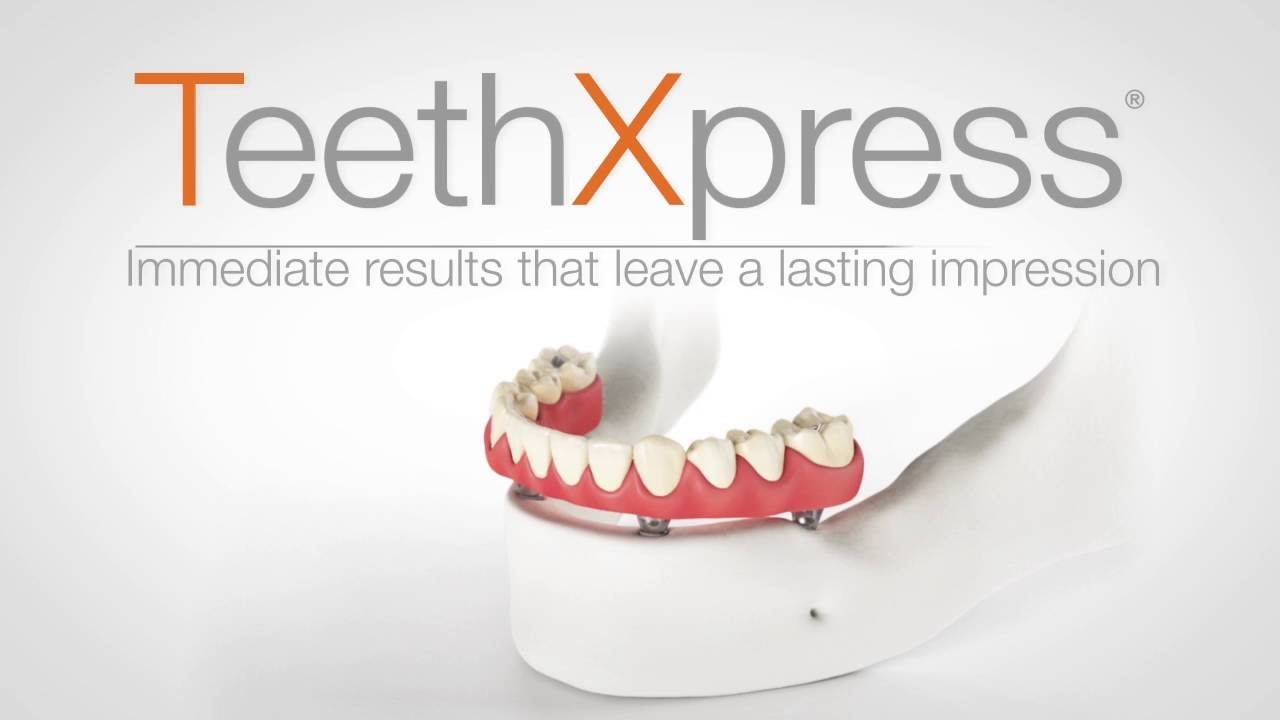 Multiple teeth replacement implants with Teeth Xpress
Teeth Xpress is the ideal solution for replacing multiple missing teeth. It works by securing your existing denture to dental implant posts, meaning that you don't get any of the embarrassing slips and movement that is commonly reported by wearers of conventional dentures.

Teeth Xpress also minimizes the natural bone erosion that occurs in patients who wear traditional dentures. Jawbone erosion from traditional dentures can make you appear rapidly aged, due to the fact that your jaw will appear more narrowed.

Choosing Teeth Xpress can help preserve the strength of your jaw bone, and reduce the likelihood that you will need bone grafting for future implant-based restorations.
The Teeth Xpress procedure is relatively quick, completely painless and usually successful. You will even be able to return to work the next day.
Single tooth replacement implant
If you have just a single tooth that is missing or requiring extraction, then you are most likely a candidate for a single tooth implant. This procedure involves placing one implant post into the jaw bone at the required location, and attaching a color-matched porcelain crown to it using a special connector known as an abutment. Once in place, the custom-designed implant looks completely natural, restoring the appearance and function of your teeth.
Our surgeons have expert training, skill, and experience for delivering first class dental implant procedures and patient care at our offices in Fayetteville, Oneida and North Syracuse, NY. Don't suffer with the embarrassment of missing teeth any longer. Make an appointment with our professional, reassuring team today.
Schedule your
Consultation today!
Please contact our office by phone or complete the appointment request form. Our scheduling coordinator will contact you to confirm your appointment.

We welcome patients with accessibility and/or mobility concerns and encourage them to make their appointments at our Oneida office. To ensure your best patient experience, please contact our office with any accommodation requests prior to your appointment.

Schedule Appointment
Questions? Contact us by Email
We encourage you to contact us with any questions or comments you may have. Please call our office or use the quick contact form below.
North Syracuse
Address
7334 Buckley Road North Syracuse, NY 13212
Phone
315-502-3400​​​​​​​
Fax
(315) 458-2786
| | |
| --- | --- |
| Monday: | 8:00am - 5:00pm |
| Tuesday: | 8:00am - 5:00pm |
| Wednesday: | 8:00am - 5:00pm |
| Thursday: | 8:00am - 5:00pm |
| Friday: | 8:00am - 5:00pm |
Fayetteville
Address
516 E. Genesee St. Fayetteville, NY 13066
Phone
315-646-0700​​​​​​​
Fax
(315) 637-1261
| | |
| --- | --- |
| Monday: | 8:00am - 5:00pm |
| Tuesday: | 8:00am - 5:00pm |
| Wednesday: | 8:00am - 5:00pm |
| Thursday: | 8:00am - 5:00pm |
| Friday: | 8:00am - 5:00pm |
Oneida *Wheelchair Accessible*
Address
578 Seneca St. Oneida, NY 13421
Phone
315-325-2100
​​​​​​​Fax
(315) 363-5043
| | |
| --- | --- |
| Monday: | 8:00am - 5:00pm |
| Tuesday: | 8:00am - 5:00pm |
| Wednesday: | 8:00am - 5:00pm |
| Thursday: | 8:00am - 5:00pm |
| Friday: | 8:00am - 5:00pm |
Camillus *Wheelchair Accessible*
Address
5109 West Genesee Street Camillus, NY 13031
Phone
315-487-2668
​​​​​​​Fax
315-487-8661
| | |
| --- | --- |
| Monday: | 8:00am - 5:00pm |
| Tuesday: | 8:00am - 5:00pm |
| Wednesday: | 8:00am - 5:00pm |
| Thursday: | 8:00am - 5:00pm |
| Friday: | 8:00am - 5:00pm |